Children Reading to Pets: Read with Me
Pet Partners, in addition to the core Therapy Animal Program, offers Read With Me™, a special initiative for our registered teams interested in volunteering in schools, libraries and other venues to promote literacy and instill a lifelong love of reading by having children read with therapy animals.
Many libraries in the area have "Reading to Pets" programs and most want Pet Partners registered teams.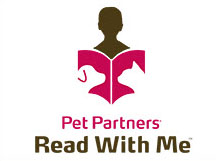 If your school or library wishes to start a program, please fill out our Facility Questionnaire. You may ignore the questions related to health care facilities unless your facility is interested in incorporating other forms of animal assisted interventions such as OT or PT for specific students. We will make your information available to our members.